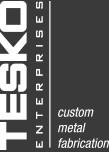 TURNKEY CUSTOM METAL FABRICATION
ONE-OFFS TO LARGE VOLUME RUNS
Wondering if a concept has legs? Trying to validate a design's effectiveness? Our design team will work with you to develop and test a functional prototype until it is approved for production.
Maybe you have a specialized production application with unpredictable frequency runs. Or perhaps your product is in the early stages of its lifecycle and is currently sold only in low volumes. Tesko regularly handles these scenarios and many other short run needs.
Demand for your product or component is finally established. Now what? Tesko meets your large volume needs with streamlined production processes and optimized production schedules. Worrying about forecasted delivery requirements just became a thing of the past.
SUCCESS STORIES
CUSTOMER'S CHALLENGE
​
This 2nd tier supplier of OE components couldn't respond quickly or effectively to requests due to specialized parts and long material lead times
​
​
TESKO'S SOLUTION
​
Inventory of customer's material, batch processing of parts and direct shipment to heat transfer company reduced lead times
​
CUSTOMER'S CHALLENGE
​
Fluctuating demand was making accurate forecasting impossible for this manufacturer of large, outdoor advertising signage equipment
​
​
TESKO'S SOLUTION
​
Turnkey processes were developed and a unique inventory

management system was built
​
CUSTOMER'S CHALLENGE
​
Needed a Midwest source to laser cut critical components on extremely short notice, as well as required detailed certifications and 100% traceability of raw materials
​
​
TESKO'S SOLUTION
​
A library of required parts and cutting programs was built; c
ertified material sources who could guarantee
24-hour deliveries were secured
​
CUSTOMER'S CHALLENGE
​
A nature conservatory could not develop workable designs for outdoor signage, seating, artwork and shade structures
​
TESKO'S SOLUTION
​
Design options were provided based on customer's rough concepts; material recommendations were made to reduce costs without affecting functionality
​
CUSTOMER'S CHALLENGE
​
Niche supplier of low volume parts for Department of Defense applications could only provide paper drawings for components produced 35+ years ago
​
​
TESKO'S SOLUTION
​
Paper prints were converted to electronic drawings, hard-to-find materials were located, and 100% inspection methods were completed to ensure military conformance
Tesko Enterprises is a 60+ year old metal fabricator, adding laser cutting to our portfolio of services in 1995. Core capabilities include metal cutting, forming, welding and finishing. We excel at providing prototypes, one-off fabrications, service parts and low volume components.
Tesko's goal is to provide solutions for the unique and common challenges routinely faced by our customers. ​We strive to be a proactive production partner with exemplary communication skills.
doors open
for business
hour turnaround capability
square feet of
building space
Inquiries
For any inquiries, questions or commendations, please call: 708.452.0045 or fill out the following form.
Midwest Office
7350 Montrose Avenue
Norridge, IL 60706
Tel: 708.452.0045
Fax: 708.452.0112
Get a quote: 708.452.0045