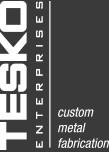 EQUIPMENT
Tesko's state-of-the-art equipment is housed in a 53,000 sq. ft. building with complete crane coverage to 25 ton capacity. Our machinery can hold tight positioning and repeating tolerances as well as offer nesting capabilities. Metals can be cut to specific sizes, formed to specific configurations and machined to specific characteristics.
​
Our impressive machinery list ensures that we can provide the highest quality laser cutting services:
​
Mitsubishi CO2 Laser (1)
4000 watt – 60 x 120" table

Mild steel to 5/8"

Stainless steel to 3/8"

Aluminum to 3/16"

Wood & acrylics
​
MG Metalmaster Plasma (1)
100 amp – 72 x 180" table

mild steel to 1/2"

stainless steel to 1/2"

aluminum to 3/8"
​
Shears (4)
sheet & plate to 1/4" x 10'
​
Press Brakes (8)
forming to 300 tons x 10' long
​
Punch Presses (14)
150 ton capacity - extensive tooling inventory
​
Lathes & Mills (12)
Machining for complex assemblies & equipment
​
Saws (8)
​
MIG Welders (14)
mild steel, stainless & aluminum
​
Heliarc Welders (4)
​
Drilling and Tapping
​
Polishing Lathes (8)
polishing to mirror finish on stainless steel
​
Flexible Shaft Polishers (3)
final finishing for intricate items
​
Paint Booth & Batch Oven (shorts runs)
air dry & baked enamel finishes
​
Powder Coating (short runs)